Hot off the presses we have the first American Idol eliminated from the top 12.

Also, a review of the animated film "Chicken Little". Which I saw three times in total and let me tell you why.
Pic of the Day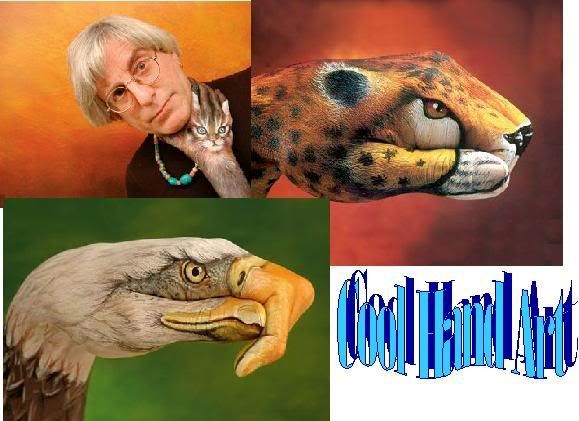 ---
Quote of the Day


Classic Quotes by Oliver Wendell Holmes (1841-1935) American Jurist
A goose flies by a chart which the Royal Geographical Society could not mend.
--------------------
A man may fulfill the object of his existence by asking a question he cannot answer, and attempting a task he cannot achieve.
--------------------
A mind that is stretched by a new experience can never go back to its old dimensions.
--------------------



Web Site Worth the Visit
Indulge My Beloved Husband

For he sent me this link and guaranteed I would be bowled over. It is an interesting video but it's not all that...

Anyway, the man sometimes clicks on this link and just sits and listens, giggling the whole time. If you think you got a warped sense of humor, this site is for you.

CLICK HERE

TIDBITS

PREGNANCY Q & A:

Q: Should I have a baby after 35?
A: No, 35 children is enough.

Q: I'm two months pregnant now. When will my baby move?
A: With any luck, right after he finishes college.

Q: What is the most reliable method to determine a baby's sex?
A: Childbirth.

Q: My wife is five months pregnant and so moody that sometimes she's borderline irrational.
A: So what's your question?

Q: My childbirth instructor says it's not pain I'll feel during labor, but pressure. Is she right? !
A: Yes, in the same way that a tornado might be called an air current.

Q: When is the best time to get an epidural?
A: Right after you find out you're pregnant

Q: Is there any reason I have to be in the delivery room while my wife is in labor?
A: Not unless the word "alimony" means anything to you.

Q: Is there anything I should avoid while recovering from childbirth?
A: Yes, pregnancy.

Q: Do I have to have a baby shower?
A: Not if you change the baby's diaper very quickly.

Q: Our baby was born last week. When will my wife begin to feel and act normal again?
A: When the kids are in college.

ELIMINATED THE NIGHT OF 3/14/07:
Brandon Rogers

The bottom three were Phil Stacey, Brandon Rogers, Sanjaya
Below was written BEFORE the elimination show of 3/14/07 was aired.
American Idol 2007-Diana Ross and the Top Twelve
First, some idle Idol gossip. It seems that Antonella Barba, a top 16 finalist in 2007 who had racy photos of herself floating around the Internet, will not be jobless now that she's been kicked off the contest by the American public.
From Realitytvworld.com:
SugarDVD -- the largest renter of adult DVDs online -- has offered Barba $500,000 to become their new "spokesperson," TMZ.com reported on Thursday. SugarDVD's CEO "Jax" said if Barba were to accept the offer, her first gig would be hosting a launch party for their new video-on-demand service.
Next, hey, on the night of 3/13/07 when the top twelve performed Diana Ross songs, Paula Abdul had on the most gorgeous necklace! Which made me go on and wonder why Simon always wears white Tshirts. Doesn't the man have any other clothes?
Understand here that when you're talking Diana Ross you're talking a song genre I am very familiar with. And I still didn't recognize a few of the tunes so forgive me if I didn't go researching all over the place for yon two or three people who read this Blog. I did recognize most of the songs as sung by the 2007 "American Idol" top twelve and they certainly sounded different. Which is not to say they sounded particularly good.
Let us move on to Brandon Rogers. Brandon performed Ross' famous "Can't Hurry Love" and he was just terrible, simply awful. It sounded as if Brandon were in some deep tunnel somewhere and his voice was grainy. I didn't notice but judge Randy pointed out that Brandon also forgot the words to the song.
I don't have a forgiving heart when it comes to forgetting words to a song. I interpret this as a failure to practice enough. And forgetting words was a big problem this first night of the "American Idol" 2007's top twelve.
Melinda Doolittle sang a song from "The Wiz" that I did not recognize. As I recall, Melinda dedicated one evening of song to her alleged "stylist". Melinda, sweetie, check back with this stylist. That grey dress was positively matronly.
The judges like Melinda's performance as did I. Simon likened Melinda to a "young Gladys Knight".
Curly-haired Chris Sligh sang "Endless Love" and I do declare, Diana and Mr. Sligh both HAVE THE SAME HAIR!
The beginning of this love song was very weak and Chris was definitely not at his best. Chris sang the tune kind of fast. Chris didn't wear his glasses and hey, Chris....put your glasses back on! Being a nerdy kind of guy is part of your charm.
Judge Simon declared Chris murdered the song.
Next up the very Goth Gina Glocksen performed "Love Child" and my adolescent memories filled with teenage angst and the import of that song's lyrics. Which made me wonder what the hell happened to this country. In this "Love Child" song, a female sings of her desire to never bear an illegitimate child, that she knows the damage that status wreaks on a child. Today, almost every teenage girl on Baltimore street bears a baby out of wedlock and proudly declares that the dope smoking guy on the corner is her "baby daddy".
I didn't like Gina's performance but I don't especially like Gina for her silly pierced tongue. My prejudice regarding this will never leave me. May Gina get booted off soon for surely she will never beat the likes of Lakisha and Melinda. Even gentle Paula said Gina "shouted" part of that song.
Heh. Now we have Sanjaya. Here's a top twelve American Idol 2007 that no more belongs in the top twelve than I do. Sanjaya sang "Ain't No Mountain High Enough" and hand to God, if I heard someone singing like him in a Karoake bar I'd boo.
Sanjaya did, however, have great hair, all curly like in honor of Diana Ross I must suppose. The judges too did not think much of Sanjaya's performance. Randy said "thank God for background singers".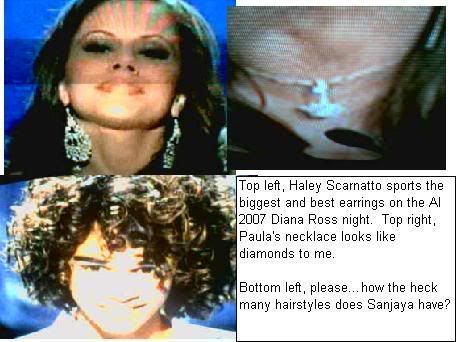 Haley Scarnato is another contender of this evening who allegedly forgot her words. I didn't hear Haley forget her words so evidently she covered it well. Haley sang "Missing You" which Diana Ross said was written for Marvin Gaye. I didn't know that.
I loved Haley's earrings and truly thought this was one of Haley's better performances. The judges, all except Simon, really gave Haley bad, bad reviews, way worse than I thought she deserved. Except for Simon who, oddly, said that Haley didn't do all that bad and that she displayed a good "presence" on that stage. Which she did. Haley did manage to quell her tears at the judge's disparaging remarks.
Phil Stacey sang "I'm Going to Make You Love Me". I thought he gave a fairly good performance and all the judges complimented Phil as well. I don't see Phil winning this thing but I don't think he'll be going home any time soon.
Ah, Lakisha Jones looked and sounded like an angel. I didn't recognize the song she sang but in terms of range and pitch, it was perfect for Lakisha. The judges loved Lakisha and remarked on how well she contained herself and didn't "overdo" her song. Simon called it an extemely "controlled performance".
Which it was. Lakisha going to be in the top five, definitely, the top three, probably.
I have been thinking right along that Blake Lewis will win this thing but after last night, not so much.
Blake has an amazing amount of talent and for the longest time his ability to do sounds, sing a hip-hop-happening rap and croon a love song mesmerized me. Last night, Blake wore just the most stupid outfit although I understand he was trying to be "au current". He looked more like the Bob's Big Boy icon to me.
Blake sang "You Keep Me Hanging On" and Blake put his famous "Blake-Take" on that classic tune. I had no problem with it but the judges certainly took exception to what they called too much "blakinzation" of a classic tune.
Well Blake's big sell is his vocal talents and as Blake sees it, the audience EXPECTS such vocal artistry from him. If I'm right about how Blake thinks, and I am just guessing folks as the fellow does not talk to me, I think he's right. Those judges, sometimes you simply cannot please them. If you put your take on a song, they complain. If you don't, they complain.
Stephanie Edwards wore the most colorful dress I've ever seen. I didn't recognize the tune Stephanie sang but I thought she displayed very good vocals and showed a little, but not too much, boob. Simon chastised Stephanie for only singing the intro to her song.
Chris Richardson also sang a tune I didn't know and I didn't especially like it. I though his performance was not so good, certainly not memorable. The judges didn't like his performance either.
Finally, my own personal favorite, Jordin Sparks. Jordin wins the best dressed of the Diana Ross night on AI 2007. Beyond this, I would depict Jordin's performance as absolutely a delight to watch and hear. Jordin sang "If We Hold On Together". She wasn't exactly Diana Ross but for sure she was Jordin Sparks, a very possible winner for American Idol 2007.
My own awards for Diana Ross night American Idol 2007:
BEST PERFORMANCE-Lakisha Jones
BEST DRESS-Jordin Sparks
BEST SONG CHOICE FOR VOICE-Lakisha Jones
WORST PERFORMANCE-Sanjaya
BIGGEST SURPRISE OF NIGHT-Chris Sligh, not so good, needs his glasses, is much better as a "nerd" personna.
MY GUESS AS TO NEXT ELIMINATION-Sanjaya
AMERICAN IDOL 2007 LINKS
Seattle and Minneapolis 1/16/07 and 1/17/07
Birmingham 1/30/07
San Antonio 2/6/07
The Top 24 2/12/2007
First Four Eliminated
3/1/07-Down to 16
The Top Twelve
Diana Ross and the Top Twelve
More TV Reviews HERE
===============
Add POST to Technorati Favorites
=======================