A review of those American Music Awards...pics, video, thoughts and opinions.

Plus Fox's "The Next Great American Band" continues.

A review of "The Bee Movie", a cartoon film that will enchant the little ones but also delivers an amazing lesson any gardener would love.
Pic of the Day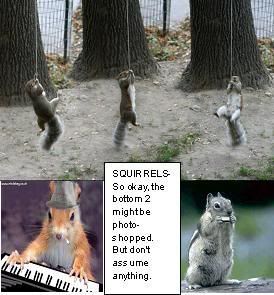 ---

The American Music Awards 2007
A review of the
2007 winners here.
It's not at all clear to me just how the winners of The American Music Awards are chosen. Although I note that the field of choices is only three and there aren't all that many awards given out.
The show seems to be yet another music awards show to get attention and sell records. Not that there's anything wrong with that.
American Idol is making inroads into this awards show it would seem. Last night there was Carrie Underwood, who received three major awards, Kellie Pickler, Jordan Sparks and Chris Daughtry, an American Idol "loser" who now has a band and an album named after his own fine self although he claims it's all a team effort. Heh.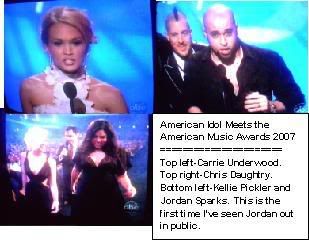 I will say I was entertained by the show although I was often left scratching my head in confusion. One of the more vaunted singers is alleged to be Avril Levigne. That girl can't sing so her popularity is lost on me.
The musical productions are really over the top. They did make great video entertainment but would this music play well on the radio? Too, many of the numbers were sung by two or three people and this confused me. One pretty singer, Rihanna, sang a song that lasted an hour it seemed like and she was joined by various men that I didn't know who they were.
Jimmy Kimmel was the host and Lord he was lame. At one point he was introducing a team (the job of the host of this award show is to introduce the people who will be giving out the awards) of singers from High School Musical 2. He cracks that his son told him that these are the females he'd most like to lose his virginity to. Hahahahahah. I could barely stop my hearty laughter.
It's understandable in a fashion that sex would very much be on the minds of teenagers but what...is it cool for Dad to yuk, yuk along?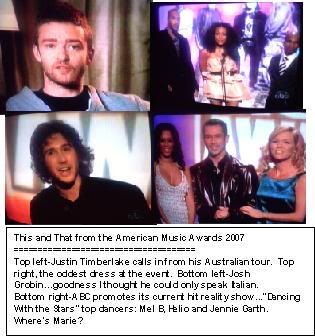 Of course there was the mandatory song by Celine Dion and this woman's days are numbered judging by the Carrie Underwoods and Taylor Swifts coming right behind. And Josh Grobin speaks perfect English...American style. All this time I thought he was Italian. By me, Josh Grobin is a hunk I'd love for my daughter to bring home.
The old clips featuring Guns and Roses, Dixie Chicks and some old favorites were a hoot and great entertainment.
Finally, what's with that Chris Brown guy and that stupid dance he does?
Below a remix of some clips of the videos featured. My clever and snarky comments included on the video clips.
Heh.
Fox's "The Next Great American Band" Top 7-Episode 11/16/07
It was Lieber and Stoller night for the 11/16/07 episode of "The Next Great American Band". Plenty of great tunes here including "You Ain't Nothing But a Hound Dog" and "Jailhouse Rock".
This coming week, Friday 11/23/07, features The Rolling Stones!
Below a remix of the top 7 bands. Franklin Bridge sent home this past week.
"The Bionic Woman" Returns
NBC's Bionic Woman Site HERE.
Jamie Summers is back. Actually, Jamie Summers was a copy of another popular series once upon a time "The Bionic Man", starring Lee Majors. Well it wasn't good enough to have a bionic man so we need a woman. The original Bionic woman starred Lindsay Wagner.
I don't know why they brought this series back, this time starring Michelle Ryan. Although, it's not bad, folks, not bad at all.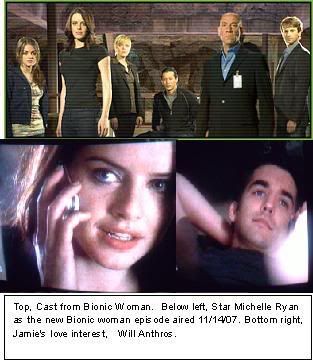 I admit to not paying as close attention as I should have but this series seems well-acted, well-scripted, and the plot is riveting.
Jamie has a little sister for whom she is an ersatz mother and goodness knows she's very busy in her life as a bionic woman who must protect nasty dictators from harm when they visit our shores.
I am going to re-visit this show and get a better grip on the flow. For now, I recommend this show to anyone who liked the original series or the young looking for compelling drama with excitement and a bit of romance.
=============
Focus on TV Posts of Fame
Those Wacky TV Chefs.
Includes Rachel Ray and the sexiest chef of them all.
TV News Pundits
including Russert, spitting Matthews and the one I adore.
"Dancing with the Stars"
of 2007, reviews, pics and videos.
American Idol 2007 and The Bachelor.
One night's review with links to all the others.
===============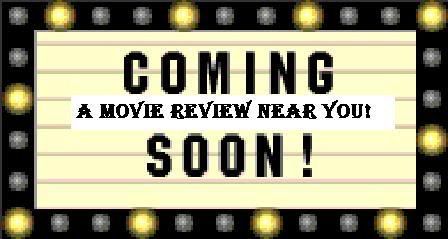 "The Bee Movie"-A Cartoon With a Message
I took my three-year-old-granddaughter to see this movie although she's almost four comes this early December. She watched this entire movie that is listed as being a little over an hour and a half long.
There were a few things that were a bit of a stretch in terms of believability but hey, it's a cartoon! A talking bee that sues the honey industry for stealing the product of the honey bees might seem farfetched. In fact, later the afternoon of seeing the movie, I took Kaitlyn to my gardens and explained to her that honey bees do not talk but they are very important to the vegetation on our planet, just as the movie pointed out.
Indeed the bees in the movie did win their lawsuit against the big honey industry, leaving honey bees across the planet with no need to continue foraging for nectar to make more honey. Without the humans taking away the honey the bees could sit around all day. Which meant, as the movie plot unfolded, that the flowers and trees fell sick and dead with no more busy bee pollinators around to spread the seed.
This is very true and for this I highly recommend the movie. For the bees of our planet are most valued by gardeners and hey, we'd have no vegetables, fruits or flowers without these most precious of insects. There was no need for exaggeration in the story line because the dread, dead world left by the lazy bees could really happen.
Take your children, go yourself, rent the DVD. The characters, dialogue and story line of this movie is top notch entertainment.
And you'll love the mosquito who becomes a lawyer because, well he was already a blood-sucker, as he explains.
=================
FOCUS ON MOVIES
========================
"Brokeback Mountain"
was heavily hyped as a homosexual film. Which it was. I found the relationship with one of the film's protagonists and his daughter to be more revealing about the character than any same-sex relationship depicted.
Tom Cruise's love is featured in "First Daughter",
a film about, well, a first daughter. Only totally not believable.
"Chicken Little" is an animated film about,
well something about a sky falling. Kaitlyn Mae watched this movie six times in one weekend. Read why this movie appeals to children so.
This post features reviews of BOTH "Poseidon" movies
. The best one chosen might surprise.
He was born a rat but he wanted to be a chef. Here's a review of a charming animated film that will capture the imagination of both your children and ...YOU!
Ratatouille