Tina Fey is an angry woman and it shows, unfortunately, in her acting in the film "Baby Mama", reviewed in this Blog post.

The movie has its funny moments but it's no great paean to thought and morals, make no mistake. It's definitely a chick flick, let us not mislead.

The biggest surprise is the role played by Steve Martin!
Pic of the Day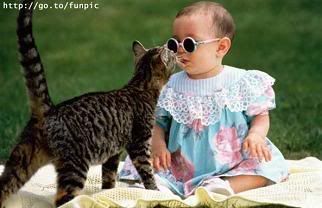 DISCLAIMER: Movie Reviews

I rarely see a first-run movie so any movie reviews I do are likely older ones. But if you're looking to rent a DVD for the weekend, or just want a new perspective on a movie you remember fondly, or not-so-fondly, read on.
"Baby Mama"
Finally, a movie with Steve Martin and, get this, he's NOT a loving Dad!
In fact Martin plays some sort of hippie New Age Guru in this movie about a woman hearing her ticking biological clock with intent to do something about it toot de sweet. Martin's part in promotion of the screen play is ambiguous but they had to have some filler as I imagine.
IMDB FOR THIS MOVIE
Tina Fey is an angry actress, as I've often alleged. Which makes little sense as she's been very successful in her career and goodness knows Sarah Palin put Fey on the map.
Amy Poehler, who played the part of poor white trash Angie Ostrowiski, is a colleague of Fey's on "Saturday Night Live" and hey, it was much easier for this viewer to like Angie as opposed to Kate Holbrook-Fey's character.
As anybody who ever watched the trailer for this movie would ascertain, this is not a movie with great depth and flood of thought. It does have its funny moments, yes it does, and if a movie makes me laugh out loud, however temporary, I consider it worth a look-see.
Tina Fey never even made me smile once during this movie. Amy Poehler had me smiling plenty of times. Some would argue it was a difference in the characters each played in the movie but I say PSHAW. Tina Fey is an angry woman and it shows in the parts she plays. Too bad.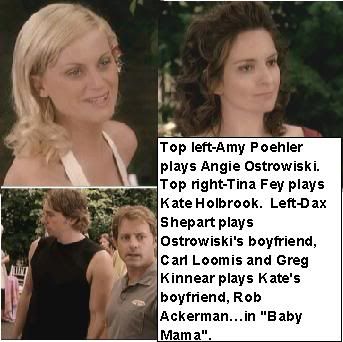 Anyway, Holbrook is approaching age 40 and she yearns for a child. Such as cultivating a relationship and eventual marriage might take too long and besides, fertility tests reveal that Holbrook has serious issues with conceiving so the search is on to find a surrogate mother who would bear the child conceived by an anonymous sperm donor and Holbrook's harvested egg.
Enter Angie Ostrowiski, a lower class female embroiled in a relationship with Dax Shepard, played by Carl Loomis. For a fee, Angie is to bear Holbrook's child.
Holbrook does get involved in a romantic relationship during the course of the movie, with a Rob Ackerman, played very well by Greg Kinnear. Kate must deal with the dilemma of telling Rob the truth about her "friend" Angie's unborn baby and the challenge of keeping it all a secret until she's ready. Angie too has a secret that she wants to keep from Kate.
In the end, in the funniest scene in the movie in a courtroom confrontation, the truth comes out and it was so predictable from the very middle of the movie that it was all definitely an anti-climax.
Yes, I'd recommend this movie for a rainy afternoon. It's a chick flick, my specialty and let me not mislead. Its humor is limited, let me not mislead, but it's there.
Tina Fey needs to have her attitude smacked off of her shoulders clear to next Sunday. She'd be much more believable in a comedic role.
Below a little snippet from the funniest scene in the movie. Might be a bit of a spoiler so be forewarned.