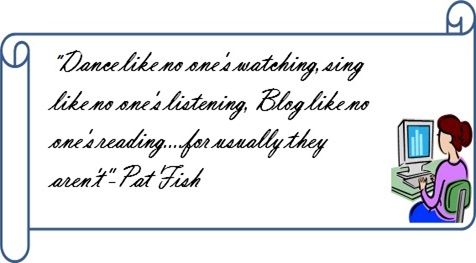 Here's a movie review of RIO, an animated film as pretty to watch as too the joyful plot. With an amusing story of a "Blue" bird that visited my own modest backyard
Pic of the Day
================
Official web site for this movie
IMDB web site for this movie
I've yet to attend the showing of an animated feature without noticing the resemblance of some of the characters to real and famous people. I could swear the little boy in "Rio" looked like Barack Obama. But I won't hold it against him or the movie.
A few other characters looked very familiar but I couldn't put a name to them.
I went to see this movie with daughter and granddaughter. First test, the movie kept the 7-year old interested, was not violent or sexual in any way, had a happy storyline and had the appropriate amount of action scenes as required to keep the young interested, to not lose them in boredom.
Cast overview, first billed only:
Karen Disher ... Mother Bird (voice)
Jason Fricchione ... Truck Driver (voice)
Sofia Scarpa Saldanha ... Young Linda (voice)
Leslie Mann ... Linda (voice)
Kelly Keaton ... Bookstore Customer / Lady Tourist (voice)
Jesse Eisenberg ... Blu (voice)
Wanda Sykes ... Chloe (The Goose) (voice)
Jane Lynch ... Alice (The Other Goose) (voice)
Rodrigo Santoro ... Tulio / Soccer Announcer (voice)
Gracinha Leporace ... Dr. Barbosa (voice)
Jamie Foxx ... Nico (voice)
Will i Am ... Pedro (voice) (as will.i.am)
Phil Miler ... Aviary Intern / Waiter (voice)
Anne Hathaway ... Jewel (voice)
Bernardo de Paula ... Sylvio / Kipo (voice)
These movies are never the stuff of Academy Awards and they are formulaic. There must be a story line, there should be a chaste love interest ongoing, there should be a battle, however smallish, of good versus evil.
The degree to which one such animated movie is better than another is in nuance.
Rio had the most colorful characters of any recent animated movies I've chanced to see. First, the movie was about birds living in the heart of South America. Right there you've got a treasure trove of colorful and beautiful birds.
As an aside, and as a bit of serendipity which brings a smile to my face, the main animated character in this story is a blue bird named …well "BLU".
So isn't husband, who's hardly any dedicated bird watcher, sitting at the dining room table one day, eating his dinner in front of the sliding glass doors, when he suddenly and with great surprise shouts "What kind of bird is that?" I turned to watch and for 1/100th of a second I saw a flash of deep blue wings.
"The bird was completely blue!" husband shouted with surprise and joy. "It looked just like a cardinal only it was blue!"
Somewhere in my mind the species of that bird was tempting me but I walked away to muddle it through. And I was a bit jealous that it was husband, who never fills the bird feeders which had attracted the bird to begin with, saw it for a much longer time then to rub salt in the wound…"Here it is again!" he shouts, only when I got back to the big window the deep blue bird was gone.
It was an Indigo bunting, this within a week of having seen the movie RIO, which was about a beautiful blue bird which looked a lot like that Indigo Bunting.
Husband becomes a bit insufferable, giving me details on Indigo Buntings, which are related to cardinals, as he informed me in one such info session, thus I should not forget that his first comments were that the blue bird at the feeders resembled a cardinal, only blue.
The week before last husband spotted a pair of Orioles and I heard all about this for a week, but moving on.
For the record, I DID see a flash of those inky blue wings so technically, I saw it too.
For the record, sometimes I wonder if God doesn't have a sense of humor what with these whimsical things happening, like seeing a glorious blue bird I'd never seen before…me, a dedicated bird watcher, the same week I watched an entire movie about a similar bird.
For the record, God obviously has a touch of satire in Him for giving husband the bigger glance at one of His more beautiful creations.
The love interest involves BLU and a lady bird, as well as a human couple, the female of which is BLU's human owner.
Along with the beautiful birds that lend themselves quite well to color, there were playful monkeys, handsome drooling bull dogs, humans dressed in colorful costumes…the entire movie was as much a pleasure to the eyes as to the mind.
To the Main Blog…Over a Million Page Views
EMAIL ME