"Mama Mia" is an okay musical, probably not for our heterosexual brethren. It does feature pop music from my era, has beautiful scenery, great acting, intriguing characters.

Two things, "Dancing Queen" will roll around in your head for a month after seeing it and the plot line, folks, it's really, really uncomfortable.
Pic of the Day
"Mama Mia"…A Very Mixed Bag
IMDB Site for this movie.
I like musicals.
Of course I am a female and women, as I guess by instinct only, tend to like musicals more than men. Such as actors suddenly bursting into song at the weirdest of moments upon the big screen is not normally the stuff males of the human kind like.
So okay, maybe it's just my husband. And my three other husbands.
Point is I've been around men in my lifetime and I assert, anecdotally, men do not normally like musical movies.
In the case of Mama Mia, however, my current husband had mixed emotions because he is, like me, of the era of this movie's music and it was music he liked as a young man.
Except he doesn't much like musicals.
But okay, I do and yes, I liked "Mama Mia". I liked the music, I liked the acting, I liked the characters, I liked the setting, I liked the camera work, I liked the costumes.
I didn't much care for the story.
Video trailer for this movie.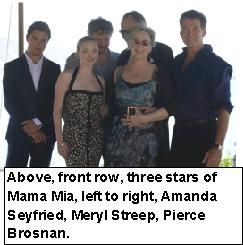 Actors in this movie:
Meryl Streep ... Donna Sheridan
Pierce Brosnan ... Sam Carmichael
Colin Firth ... Harry Bright
Stellan Skarsgård ... Bill Anderson
Julie Walters ... Rosie
Dominic Cooper ... Sky
Amanda Seyfried ... Sophie Sheridan
Christine Baranski ... Tanya
Ashley Lilley ... Ali
Nancy Baldwin ... Sam's PA
Rachel McDowall ... Lisa
Heather Emmanuel ... Harry's Housekeeper
Ricardo Montez ... Stannos
Mia Soteriou ... Arina
Enzo Squillino Jr. ... Gregoris
So Donna Sheridan runs some kind of hotel thing located somewhere on the ocean, not sure where or what country. But it's a beautiful setting with, naturally, breezes constantly blowing over a setting of azure blue skies over clean, clear refreshing ocean water.
Donna Sheridan has a daughter, Sophie, and Donna Sheridan has no idea who is the child's father.
Well not exactly NO idea. It could be one of three men who passed through Donna's life all in the span of one very busy month when Donna's child Sophie was assumedly conceived.
The movie involves Sophie's wedding, her invite to all of these three possible fathers, their collective astonishing acceptance of the honor and moves on through this rather improbable plot line that left me, well a bit embarrassed.
Donna Sheridan, played by that most wonderful of actresses Meryl Streep- of apples with Alar fame so much for Streep's activism may she stick to acting her liberal self- is a very likeable character.
She was once, along with two other youthful friends, a singer who then became a single hotel proprietress who eschewed males of all sort, alleging their uselessness except for that sperm thing and even at that Donna Sheridan messed it all up.
The idea is that the mother knows just WHO is the sperm donor as children should have a father whose identity they know and in the best of all worlds, that father will know these children exist and will stick around to raise them.
But maybe it's just me.
For Donna Sheridan was a nice lady who wasn't a slut as one might think. She just had that one busy month and it all happened because she had a broken heart anyway.
So while I quite enjoyed the movie with its fine music, beautiful scenery, pretty costumes and sometimes funny scenes, the thought of that pretty child having lived her life without ever having a proper father in her life, her somewhat pathetic attempt to locate him to give her away at her wedding, her obvious regret at never knowing her father, well this lent an aura of sadness to the movie.
Sadness and musicals, I'm just not sure they mesh all that well.
It was this discomfort that detracted from my enjoyment of the film. Which is not to say that overall I didn't enjoy it. I did.
If I didn't feel so damn sorry for poor Sophie Sheridan throughout the whole thing I would definitely have enjoyed the movie much more.
That's the fact and what's my point?
That maybe fatherless children and "courageous" mothers who raise them alone are not the most ideal stuff of happy song and strut?
To the Main Blog...Over a Million Page Views
EMAIL ME


Other Blog posts this week:


Dr. Bass became head of the Body Farm at the University of Tennessee.

There dead bodies are studied, rates of decay and other nasty stuff, to help solve crimes, identify the long dead or just so people like myself can read some really interesting stuff about it.

Not for the squeamish.
HERE
============
"Mama Mia" is an okay musical, probably not for our heterosexual brethren. It does feature pop music from my era, has beautiful scenery, great acting, intriguing characters.

Two things, "Dancing Queen" will roll around in your head for a month after seeing it and the plot line, folks, it's really, really uncomfortable.
HERE
============
In Thoughts this week we have a weekly wrap up of Obamacare news, including the most amazing, just revealed on Fox News Sunday today, 8/23/09-the administration's attempt to KILL OFF OUR VETERANS!

The Obama admin sent a spokesperson who they thought would stop the anger but God bless the child for her service to our country but she lied, and lied, and lied, and lied.

They want to kill us, folks, the elderly Vets and citizens, don't let them deny it.

Plus Michelle's shorts, Town Meeting cowards, and the snitch White House web site closed down.
HERE
============